The 48 hour game making challenge in 2009 was supported by the Australasian CRC for Interaction Design (ACID), the Institute for Creative Industries & Innovation (iCi), Southbank Institute of Technology, QANTM, Griffith QCA Film School, QUT Creative Industries Precincts and Brisbane IGDA. We were also sponsored by many local businesses who contributed food – we had bread and cakes from Gerbino's who have continued to support us since, and even more Noodles ….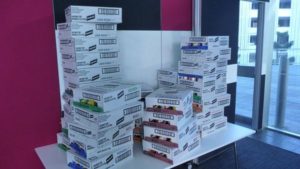 Souri once again gave us the words to inspire our game makers, a short blog post over on tsumea here. The 2009 words were: Giant – Love – Storm
The judging team consisted of John Passfield, Mick Gordon and Lubi Thomas. Special thanks go to Mick Gordon who bought everyone pizza on Saturday night
We had to create a whole new league – the professionals "living the indie life" and so we had to take over the big space next door – the glasshouse. Showers: they were warmer if you went at the right time, air conditioning was still fierce or useless, the stakes were high and the games made by our compliment of 20 teams were just brilliant!
We introduced prize mugs and badges and we also introduced different categories of prizes: Pro-team Winner, Grand Champion Winner (not so ordinary teams), Audio Winner, Graphics Winner, and one that is still a favorite: "Who dares" Winner.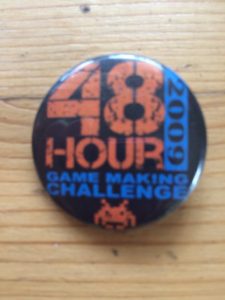 Judging got tricky in 2009 – many of the people who had been judges in previous years came back and entered the challenge themselves – have a look at the team photos and spot some games industry luminaries:
The 48 indie league team winners were Black Wolf with High Hopes. Curious bear won the pro league with their wonderful My Mechanical Romance – a wonderful game featuring giant robots trying to get married in spite of storms and protestors who disapprove of robot marriage. 72pin connector blogged about it – only available via the wayback machine now
It's dangerous being a giant robot in love.  At least that's what Australian developer Curious Bear seems to believe, after playing their game "My Mechanical Romance" (PRO Team Winner of the Australian 48hr Game Making Challenge).  So what could two giant robots really have to be afraid of if not the agonizing fear of dying alone.  Well, lightning seems to kill 'em pretty easily, and Christ they're getting married on a stormy day.  Protesters are also a major threat.  It seems that the puny humans hate love, when it's of the colossal and steel variety.

So instead of playing as a giant robot in love, or angry lightning cloud/protester, you get to be the wind – an apparently kind and sympathetic sort that wants nothing more than to give the robots a chance at romance.
SkDevitt has a nice photoset of the team over on Flickr
Kitchen cam came into its own – with special thanks to our wonderful technical support – the awesome Chen.
Portal Marmosets returned as Dimensionography and Leanne kept a blog of the event and the creation of their rather lovely game – A forest fair and still.
Could it be the sacred wind?

Day 36, and still no sign of rescue. Rations are scarce. Beginning to consider convenient 'accidents' for fellow crew members. May be risky, though – only thing available is Chicken Crimpy avalanche. If only we had some food, it might not have come to this. But poor planning, and the Tim Tam Andes, have left us vulnerable. I won't wait. The Crimpies come down tonight.

from dimensionography – live at the comp
Yug (then intrepid reporter for Aussie Gamer) once again covered the challenge for the mag. Via the wayback machine:
We were also featured on ABC local radio – once on the early morning show and later on Drive: Oct 05 2009 – 612 reporter Amanda Dell went to see some very bleary eyed, yet enthusiastic game makers in action.
And finally a selection of photos taken during the event is available via Flickr