In 2010 the 48hr game making challenge hit its fourth year and was firmly settled in the block and the glasshouse at the Kelvin Grove Creative Industries Precincts with two leagues, the indie league and the pro league. The fourth fabulous 48hr saw the return of many battle scarred regulars as well as some brave newcomers – a particular shout to the small team of two who hid behind a pile of soft drink cans in the back corner of the back room!
Yug, no longer merely an intrepid reporter but one of the team that started Brisbane's Mana Bar, gave us the words and a nice video:
Dinosaur – Reventge – Bar

We had four judges: John Passfield, Marco Grgic, Mick Gordon and Morgan Jaffit.
2010 was the year we started the 48hr logo competition. Jamie Lack won it with the rather magnificent pac man inspired logo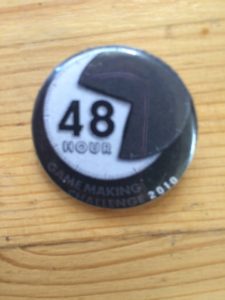 There were lovely mugs full of jellybeans as prizes
There were Noodles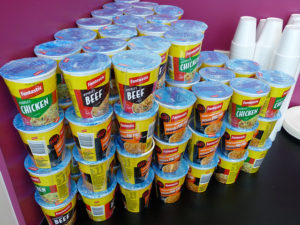 And there was our own adored techie, Chen, who changed his t-shirt on the hour every hour and confused everyone!
Our Indie league winners were Immigration Office with Little Dino's Big Adventure – the game is still playable over on Kongregate
In the Pro-league, Crateweks won with Big Al's Redemption

Simon of Voxel Agents fame live blogged the whole event and put up a playable protoype. He also gave us honorable mention in this Gamasutra article about the studio's first year: The Voxel Agents Year One Retrospective
Dracusis interviewed the teams to gain a perspective on their design process:




We were lucky enough to have Keith Novak come along and take some professional photos of the event. We turned these into an art book – have a look at the jams-jellybeans-book-sample
And we took photos of the whole event